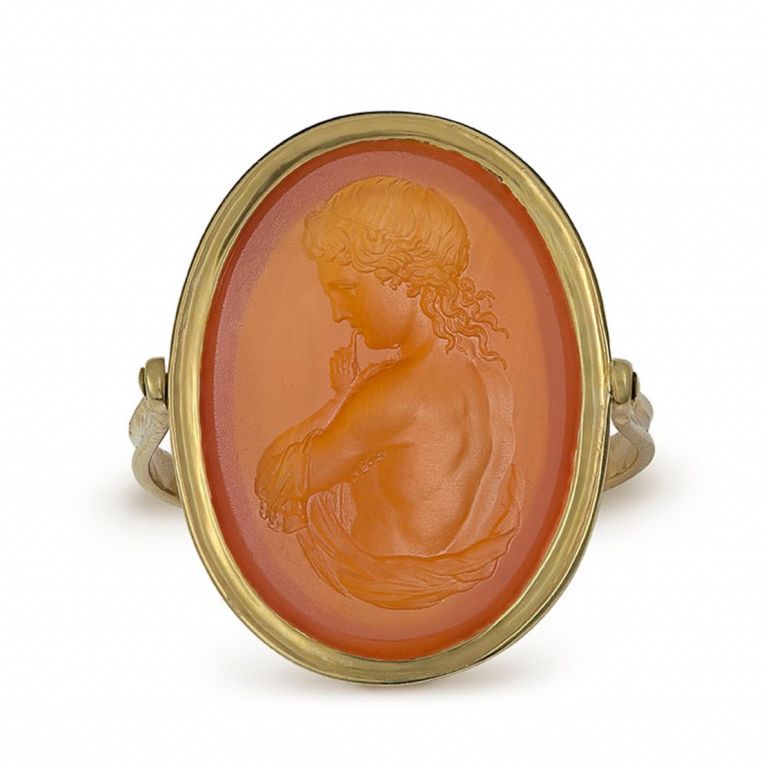 Antinous in the guise of harpocrates
attributed to edward burch
18th century carnelian intaglio
Antinous was the lover of the Emperor Hadrian, who drowned tragically on the Nile. Hadrian deified him and created a cult surrounding him in Egypt, where he became associated with the god Osiris, and with death and rebirth. He was immortalised as a beautiful youth and later became a focal point of homoerotic imagination and representation. Aligning him with the god of secrets may have been may have been a way to represent a forbidden passion without declaring it. Tassie states, "Antinous being the favourite of Adrian, who erected temples to him, afforded matter to flatterers and satirists, either by comparing him to the sun, the sun of Osiris, or by representing him as the god of Silence."
Harpocrates was a Greco-Egyptian god of secrets and silence. He was a Ptolemaic adaption of the Egyptian child-god Horus, who was depicted as a youth with a finger held to his lips, the denoting hieroglyphic symbol for his name. The Greeks misinterpreted this as a symbol for silence and so adopted him as the god of secrecy. 
There are several similar intaglios to this one in Tassie & Raspe, although none are as finely or elegantly carved., of which almost all are by Burch. Amongst them number 385 bears the closest resemblance to this gem. It is catalogued as: "Cornelion – A half length figure of Harpocrates, resembling Antinous. A fine engraving by Burch, without his name."
Edward Burch (London 1730 – 1814) was a self-taught gem-engraver, medallist, wax modeller, and miniature painter.  He started life as a waterman on the Thames and became one of the most celebrated gem-engravers of the eighteenth century. He engraved principally antique subjects and portraits of worthies. Amongst his known works is a cornelian intaglio finger ring now in the British Museum (below), of the head of the Apollo Belvedere which belonged to the Prince of Wales, the style of which is very similar to this intaglio.
Material
Carnelian intaglio in a modern gold collector's ring setting
Dimensions
21 x 25 x 4 mm
Date and origin
Mid to late 18th century
Condition
Very fine