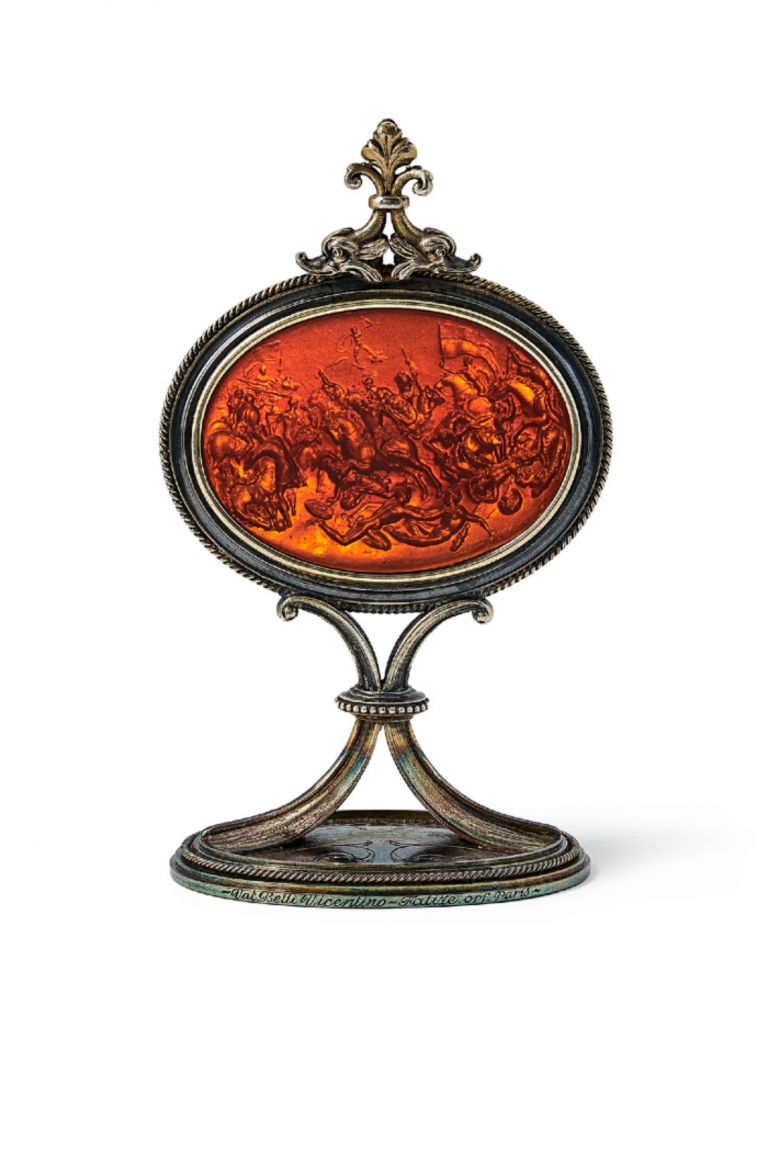 Cavalry Battle, A Glass Cast Of An Intaglio By Giovanni Bernardi Castelbolognese (1494 - 1553)
late 16th century or 17th century
The mount by Falize, Paris, 19th century
A very rare and significant example of a glass cast intaglio. 17th century or perhaps earlier. The base of the 19th century mount inscribed 'Val.Belli Vicentino Falize orf. Paris' (Valerio Belli of Vicenza, by Falize, goldsmiths of Paris)
Depicting a cavalry battle, with wounded and unhorsed men in the foreground and a figure armed with spear and shield in the clouds.
This intaglio is a glass cast of a sardonyx intaglio by the sixteenth century engraver Giovanni Bernardi Castelbolognese, now in the British Museum. It was previously in the collection of Henry Howard, 4th Earl of Carlisle (1694-1758), an important collector of antiquities who spent much of his life in Rome. Lord Carlisle built up a very fine gem cabinet, consisting of one hundred and seventy items, the greater part of which the British Museum purchased in 1890. Lord Carlisle had exacting taste and the quality of his collection was remarkable high; it included a chalcedony head of Medusa signed 'SOSOKLES', possibly referring to Alexandrian engraver Sostratus; a sixteenth century cameo of Meleager and Atalanta that once belonged to Rubens; and a fifteenth century cameo of the Entry into the Ark, possibly by Domenico dei Cammei and once belonging to Lorenzo de Medici. 
Lord Carlisle first visited Italy in 1718 and surviving letters in the Castle Howard archives from Francesco de Ficaroni (1664-1747) in Rome and Antonio Maria Zanetti (1680-1767) in Venice detail that most of his gem purchases were made 
between 1740 and 1758.  It is likely he bought the Bernardi intaglio during this period.
The Bernardi gem has been broken in three pieces and subsequently mended. The lines of the junction on the reverse of the gem are partially concealed by a bright-cut gold monogram 'KB', enamelled in red. Stylistic analysis of this goldwork suggest the gem was broken and mended prior to Lord Carlisle's purchase of the gem in the first half of the 18th century. Given that the glass cut intaglio does not show any break, it follows that it must have been cast before the Carlisle gem was broken, pointing to a 17th or even 16th century date of production.
The inscription on the mount wrongly attributes the intaglio to Valerio Belli of Vicenza, another 16th century engraver. It is signed as by Falize, a nineteenth family of Parisian goldsmiths.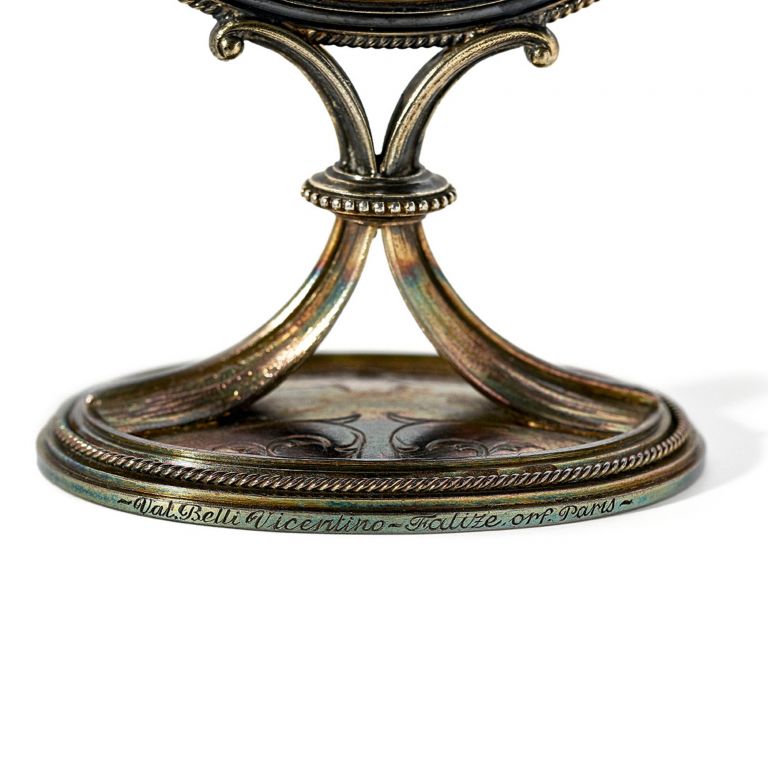 Material
glass cast
Dimensions
39 x 56 x 6 mm, 116 x 67 x 6 mm in mount
Date and Origin
late 16th century or 17th century
Condition
Very fine