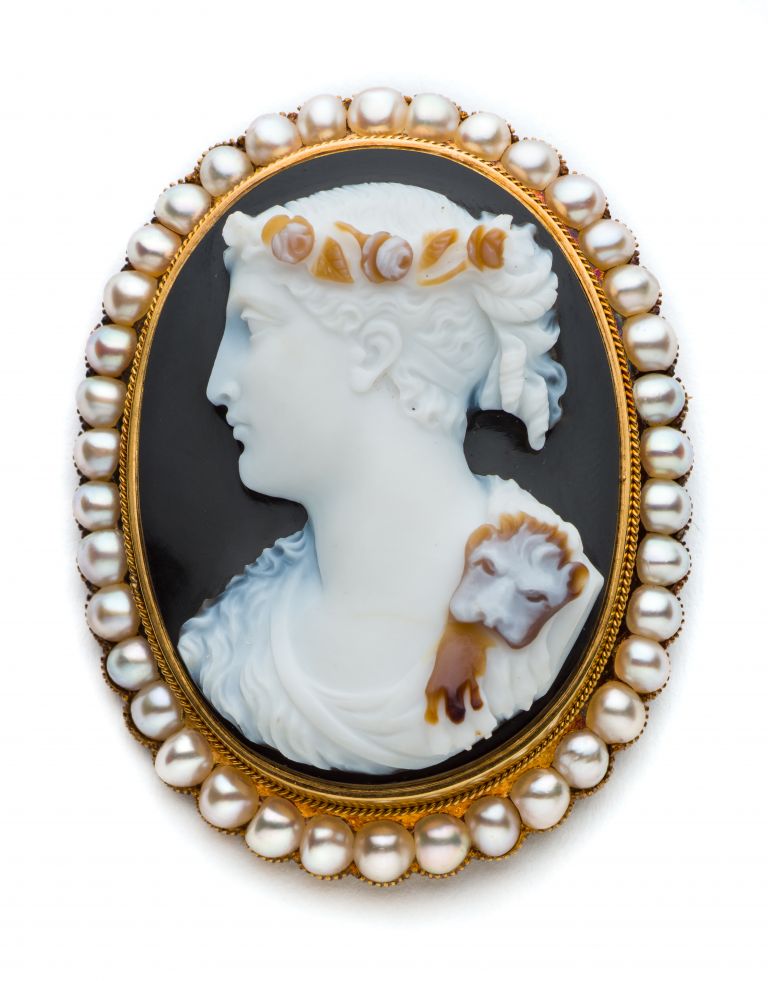 Omphale
In The Manner Of Nicola Morelli (1771-1838)
An elegant triple-layered agate cameo depicting a young woman with the attributes of Omphale, Lydian queen and wife of Hercules. Omphale, with themes of cross-dressing and enslavement, features as an unusual moment in the tale of Hercules. The hero is advised by the oracle at Delphi to become a slave for three years in recompense for the killing of Iphitos, son of king Eurytos.  He is bought by Omphale who, attracted by his strength and physical beauty, marries the hero on his release.
The tale has numerous variations, but a common theme is the gender role reversal of the two protagonists. Invincible Hercules submits meekly to the many tasks Omphale devises for him, including dressing him in women's clothing and forcing him to spin wool, a task traditionally reserved for women. Seneca even has Omphale punishing the hero by hitting him with her slipper. Omphale is shown wearing Hercules' Nemean lion skin and carrying his club, appropriating Hercules' traditional attributes. She is here identified by the lion skin draped over her left shoulder.
The tale was popular among artists, who delighted in its comical aspects. As Ovid puts it, "Weren't you ashamed, your strong arms circled with gold, and jewels placed on your bulging muscles?" (Heroides, 9.53 ff). This element of the tale appears numerous times in art, including in a version by Rubens, now in the Louvre, in which the lion's head rests over Omphale's left shoulder, as it does here.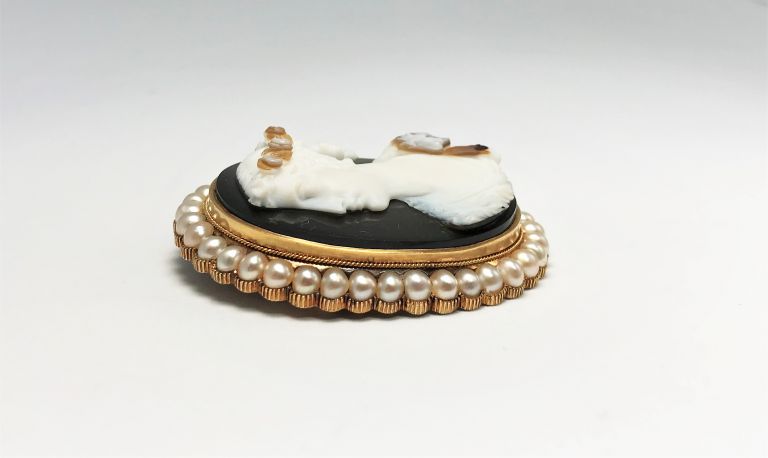 Material
triple-layered agate cameo set in a gold and pearl brooch
Dimensions
38 x 28, in brooch, 49 x 37 mm
Date and Origin
1825, Copenhagen
Provenance 
From the estate sale of Mrs. Harriet Pitman Bull, née Brown, of Marblehead, Massachusetts
Condition
Very fine