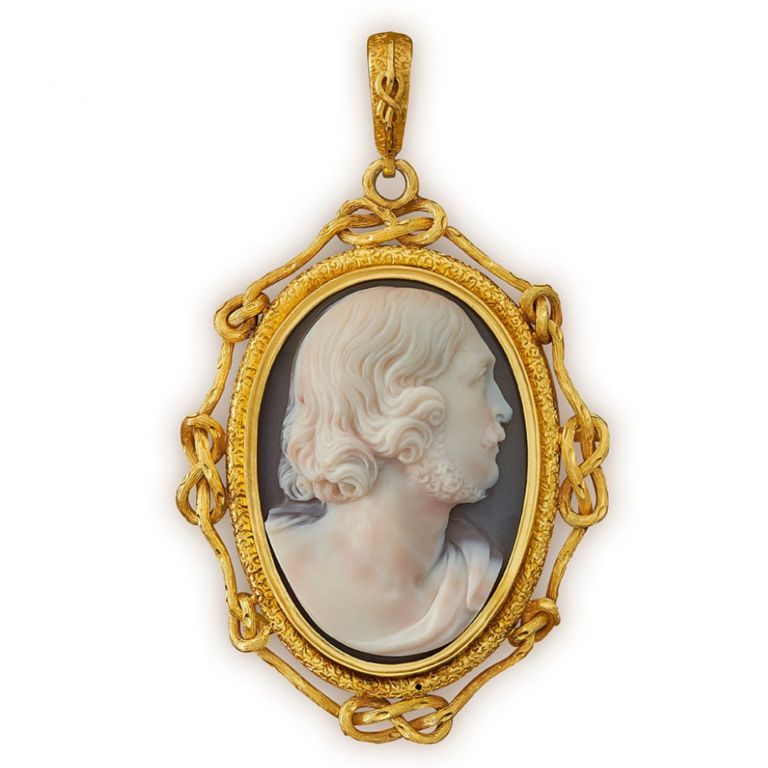 Portrait of a man 
by Antonio Berini
(Rome, 1770 - Milan, 1861)
A magnificent two-layered agate sculptural cameo of an as yet unidentified young man in profile; with flowing hair and a beard under his chin, gazing right in poetical attitude. Signed on the truncation BERINI for Antonio Berini. In an elaborate knotted gold frame, designed for suspension and to be pinned as a brooch.
Antonio Berini was an extraordinarily long-lived gem engraver. Born in Rome, he was apprenticed to Giovanni Pichler. A very fine carnelian intaglio of St George by Berini which is mounted into a gold Lesser George is in the Royal Collection (RCIN 442201), and there are also examples of gems by Berini in the Metropolitan Museum of Art, the Hermitage, and the British Museum.
Despite the number of high-quality signed gems which survive there has been very little research done on Berini. Perhaps the charming story of his move to Milan has eclipsed his work. Sometime between 1802 and 1804 Berini moved to Milan where, despite his suspected republican sympathies, he was commissioned by Count Caprara, Archbishop of Milan to cut a cameo portrait of Napoleon as a gift to celebrate his coronation there as King of Rome. Apparently Caprara was delighted when Berini delivered the gem, but his delight turned to horror when he saw the thin vein of blood running across Napoleon's neck. Fully aware of Berini's republicanism he had Berini immediately locked up until Napoleon left Milan
Berini must have been in Vienna just after the fall of Napoleon for he cut a series of Imperial portraits and a superb intaglio of Teresa Casati Confalonieri whilst she was in prison, but no record has been found.
Material
two-layered agate cameo set in a yellow-gold pendant frame
Dimensions
42 x 30 x 11 mm, 79 x 46 x 11 mm in frame
Date and Origin
circa 1840
Condition
Very fine