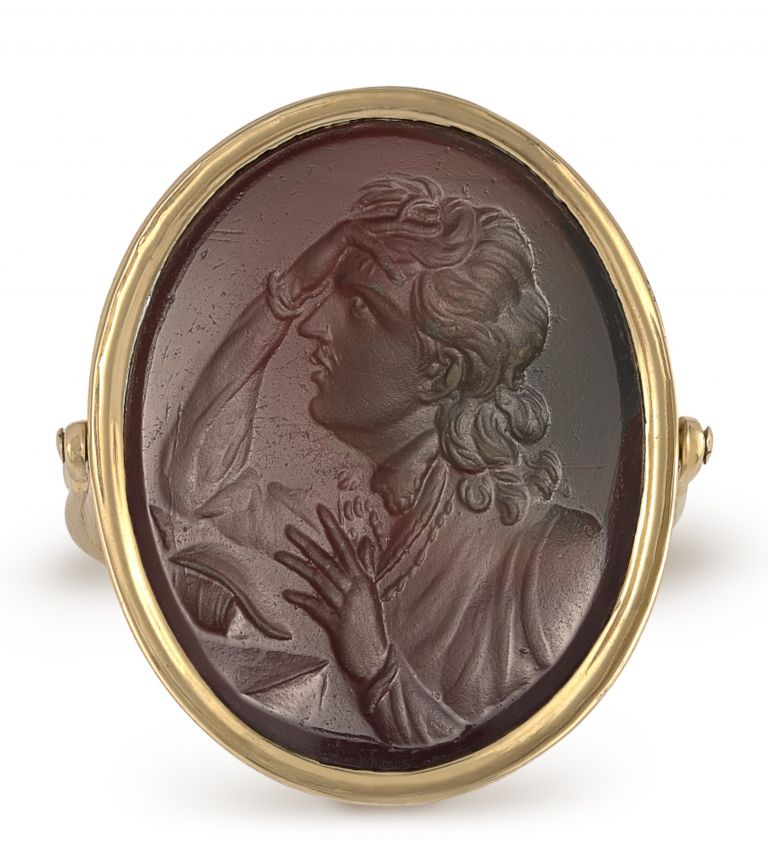 Portrait of Peter Abelard
after a Mezzotint By Thomas Watson, after a Portrait by Daniel Gardner
a fine eighteenth century agate intaglio
A portrait of the French philosopher Peter Abelard, after a mezzotint by Thomas Watson, which was published on 28th May 1776 by W. Shropshire, and is after a portrait by painter Daniel Gardner (1750 – 8 July 1805). Watson was an accomplished engraver and mezzotintist who engraved many such portraits after contemporary portraitists such as Gardner. Williamson in his life of Gardner describes Watson as giving 'careful attention' to Gardner's works and mentions a pair of 'fancy portraits' entitled Eloisa and 
Abelard engraved by Watson after portraits by Gardner. The whereabouts of the original portraits by Gardner are currently unknown but they were previously in the collection of Sir George Chetwynd and at the time of publication the property of Sir Edward Coates, who purchased them from Leggatt on February 24th 1912. Williamson therefore knew them from life and describes them as: "a pair, ovals, 14 ¼ x 12, the man in black, the girl in pink and blue, with engravings in the same colour."
Peter Abelard (c. 1079 – 1142) was a French philosopher, theologian, composer, and poet. The Chambers Biographical Dictionary describes him as "the keenest thinker and boldest theologian of the 12th century." He is remembered both for his published works and for his tragic love affair with Héloïse d'Argenteuil, which is immortalised in their surviving correspondence and has been a popular tale since the fourteenth century.
The intaglio is included in Tassie & Raspe, number 14112: "Abelard and Eloise; after a print." (The portrait of Eloise is a separate gem, number 14113).Unusually Tassie does not give the gems' provenance.  The impressions are recorded in the Beazley archive, from which it is possible to see the pendant portrait of Heloise.
Tassie & Raspe's catalogue of gems was published in 1791, definitively dating the intaglio to before then, but, if Tassie is to be believed in stating that the gem is after a print, after the publication of Watson's mezzotint on 28th May 1776.
Material
burnt agate set in a yellow-gold ring 
Dimensions
21 x 24 x 4 mm
Date and Origin
circa 1776 - 1791
Condition
Very fine