Designs for Monuments Including Grave Stones, Compartments, Wall Pieces and Tombs on 40 Plates
London: I. & J. Taylor, 1787-1796.  Quarto (32 x 24.5 cm).  Bound in modern half calf, contemporary marbled sides retained, 5 raised bands to spine, red morocco label. Engraved title and 39 plates.  Small bookplate of the Easton Neston Library loosely inserted.  4 page publisher's catalogue at rear.  Marbled sides rubbed, short closed tear to plate 13 has been professionally repaired, contents clean and fresh.  An excellent copy.  Marbled boards. 25 x 33 cms.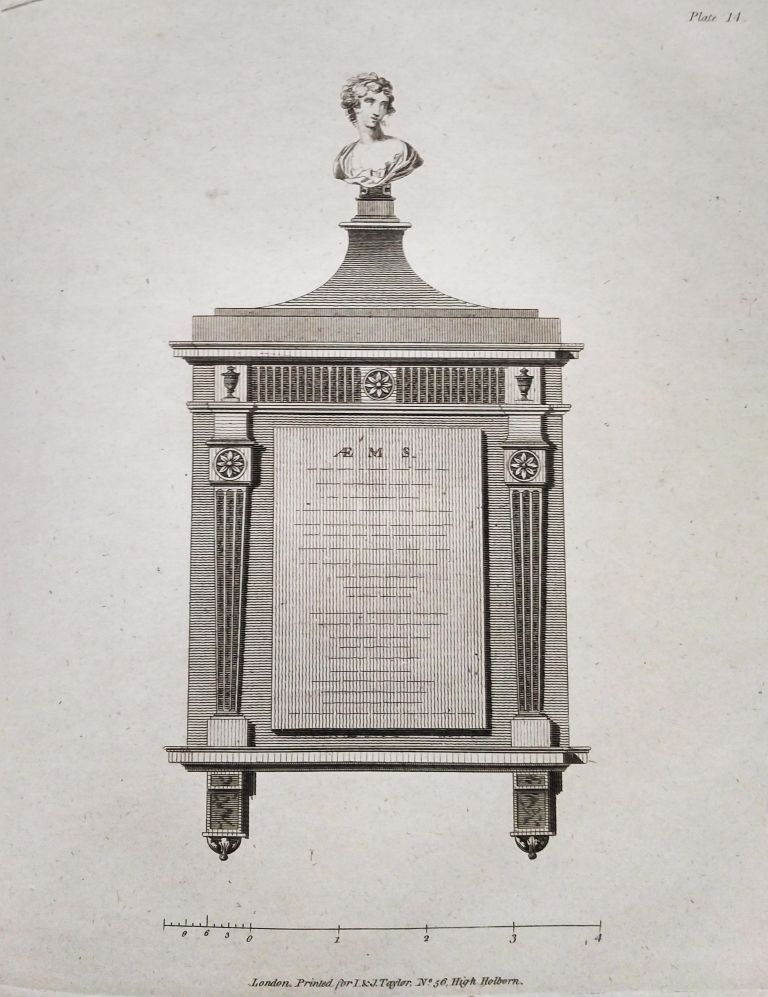 A lovely copy of this interesting and uncommon pattern book of Neoclassical funerary monuments. The patterns include wall pieces and compartments for use in churches, as well as stand-alone grave markers.  The elegant and restrained designs feature urns and obelisks, and some include sculptural elemnts.  No illustrator or engraver is indicated, but the plates are attractive and produced to a very high standard.  The publisher was the firm I. & J. Taylor, which specialised in architecture and published a range of ornamental pattern books and collections of 'plans and elevations for houses, temples, bridges, etc.'.  The book was probably published sometime between 1878 when Josiah Taylor joined the firm, and 1796, when Isaac retired (Maxted, London Book of Trades, 1775-1800, p. 222).  This copy comes from the library of Easton Neston, a grand manor in the in the Baroque style which is thought to be the only mansion designed solely by Nicholas Hawksmoor.  Only two other copies have appeared at auction in the last decade, and Worldcat locates a single copy in the UK, at the V&A.
£3,500