Newsletter: Bell, Books and Building
Jun 10, 2020
Bell, Books and Building:
Ringing the Changes at Thomas Heneage Art Books
In the past week packers, painters and decorators have converged on 42 Duke Street. Shelving is coming down, carpet is coming up.
We are using this period of enforced closure to refresh and redesign our bookshop, redecorating and rearranging our stock. Ringing these changes has meant temporarily silencing our medieval bell. First we dismantled shelving and built a tower of packed books around, before packing it away in its own wooden crate.
Books and building have a long symbolic association. 'Through wisdom is an house builded' says the Old Testament Prophet Ecclesiastes (Proverbs, 24:3) and for medieval scholars the study of the holy Scriptures to achieve moral enlightenment was like the scaffolding that underpinned the construction of a temple or church. Books and words were the foundation of wisdom and houses of memory.
But what happens when buildings are dismantled? Sometimes they reveal deliberately hidden books and texts. American archaeologists discovered a folded piece of paper under a Pennsylvania farmer's 1840s threshing floor, inscribed with magical symbols and the succinct wish that 'success and good health come to all of our stock'. We are not taking up our 1870s floorboards, but we did find a lucky penny and invitations to shows (Egon Schiele, and historic textiles at the Abegg-Stiftung) under our shelves by the till… as well as lots of dust: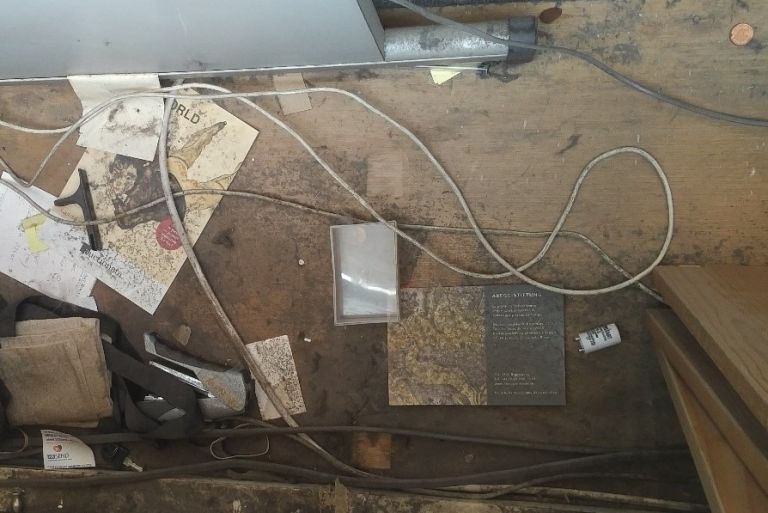 Though our own stock is now in storage or behind sealed plastic sheeting, you will still be able to order and receive books directly from us while we set the foundations for our physical reopening, working out how best to prioritise the safety of our customers and books.
To wrap, remove, quarantine or disinfect? Plastic protects books from paint, but does it protect customers from coronavirus? Plastic also protects books from rain, but should we cover our street books in the stuff, or is it safe to browse our £5 'Summer Sale' volumes in Duke Street's fresh air? We are monitoring government and scientific advice, and from time to time we seek protective inspiration from traditional sources.
For now, the bare shop walls echo with the voices (and industry) of the decorators, but we look forward to reopening safely and hearing you ring our bells, medieval and modern, again soon!