Exclusive Title: A Dynasty of Dealers. John Smith and Successors 1801-1924. A Study of the Art Market in Nineteenth-Century London
Apr 08, 2013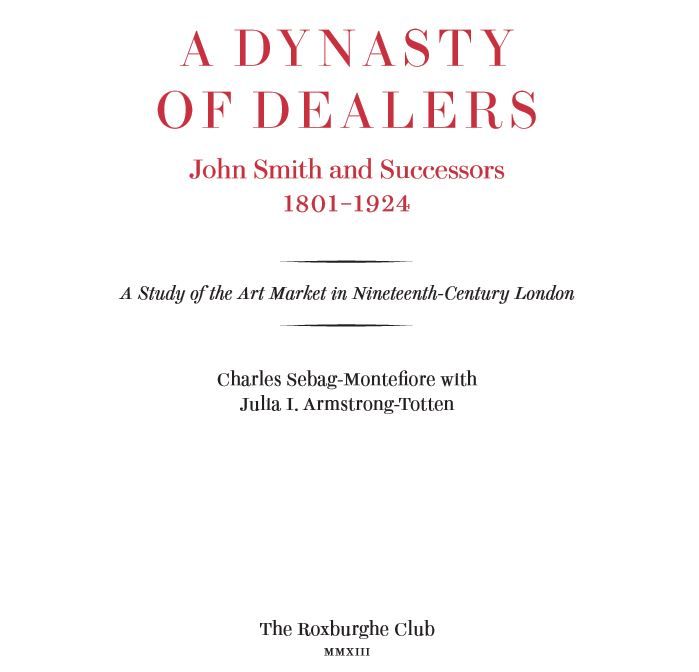 A Dynasty of Dealers. John Smith and Successors 1801-1924. A Study of the Art Market in Nineteenth-Century Londonby Charles Sebag-Montefiore and Julia I. Armstrong-Totten.
London: The Roxburghe Club, 2013. 464pp., with 60 illustrations. Cloth.
A monograph on a sparsely documented area, focusing on the art dealer and writer John Smith (1781-1855) and his family. Based on an archive of 564 previously unpublished letters and the firm's business books, it is a revealing insight into the art market for Dutch and Flemish pictures in nineteenth-century London. Smith compiled an important catalogue of Dutch, Flemish and French works of art, revered as a landmark of conoisseurial scholarship in its day and, as revised by Hofstede de Groot, still relevant as a canonical reference work.
Those who relied on the Smiths' expertise included the Prince Regent (later George IV), the Duke of Wellington, Lords Bute, Lansdowne and Northwick, and Sir Robert Peel, as well as the Baring, Hope and Rothschild banking families. The work is published, as all Roxburghe Club books, to exigent standards and printed in a short run with limited copies available to non-members.