Heneage Reimagined in Chinese Ink
Apr 22, 2013
Calligraphy has long held the position of one of China's crowning artistic contributions to World Art, yet it is one of the least understood art forms in the West. It was therefore with some excitement that we took delivery at the bookshop this week of a piece of this enigmatic art form by one of China's calligraphy masters.Thepiecein question, pictured below,wasgenerously provided by calligrapher Liu Zhengcheng, whom the bookshop approached to create the company's Chinese logo. Reading from left to right, 赫尼奇美術書店(Heniqi meishu shudian) literally means "Heneage Fine Art Bookshop". The piece is signed正成(Zhengcheng) on the right with the artist's seal below.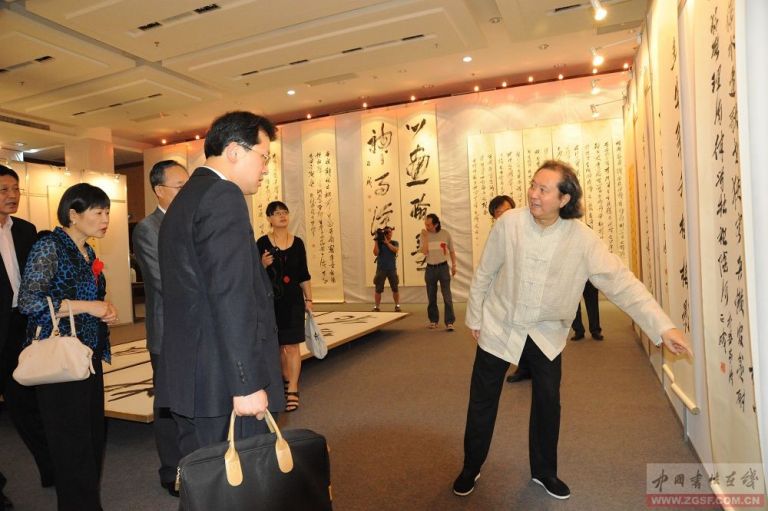 Liu Zhengcheng stands out amongst contemporary calligraphers for his mastery of all major writing scripts from the pictographic playfulness of seal script to more cursive styles which hover on the edge of abstraction. This is underpinned by his scholarly approach. He has published widely on the history of calligraphy and is Professor of Calligraphy at Peking University. The picture on the right shows the artist at the 2011 major retrospective exhibition of his work held at the Liulichang Rong Bao Zhai Gallery in Beijing.
Collaborating with Mr Liu is part of the shop's ongoing engagement with Chinese art. Please come in and see our current stock of recent Chinese and Taiwanese publications on Chinese art, including a selection by Mr Liu, and check back for further updates.