White Nights @ The V&A
May 30, 2013
This Friday (31/05/13), in association with theVictoria & Albert Museum's Late Night Russian-style White Nights Festival, we will be presenting our copy ofLes Joyaux du Tresor de Russie to all those interested in gaining a closer look at this legendary rarity.
Commissioned by the People's Commissariat for Finance as a multilingual sale prospectus, the catalogue of the Imperial jewels of Russia was compiled between 1921 and 1923 by Agathon Fabergé, under duress from the government. Only a handful of exemplars survive from a planned edition of 350 copies in Russian, English, French and Ger­man; the work, not only valuable for reference, consists of hundreds of magnificent, mainly life-size, photographs. Highlights of the collection include the Great Imperial Crown, fashioned for Catherine the Great's coronation, the Orlov diamond, rumoured to be the legendary Great Mogul Diamond of India, and the interestingly shaped Shah diamond.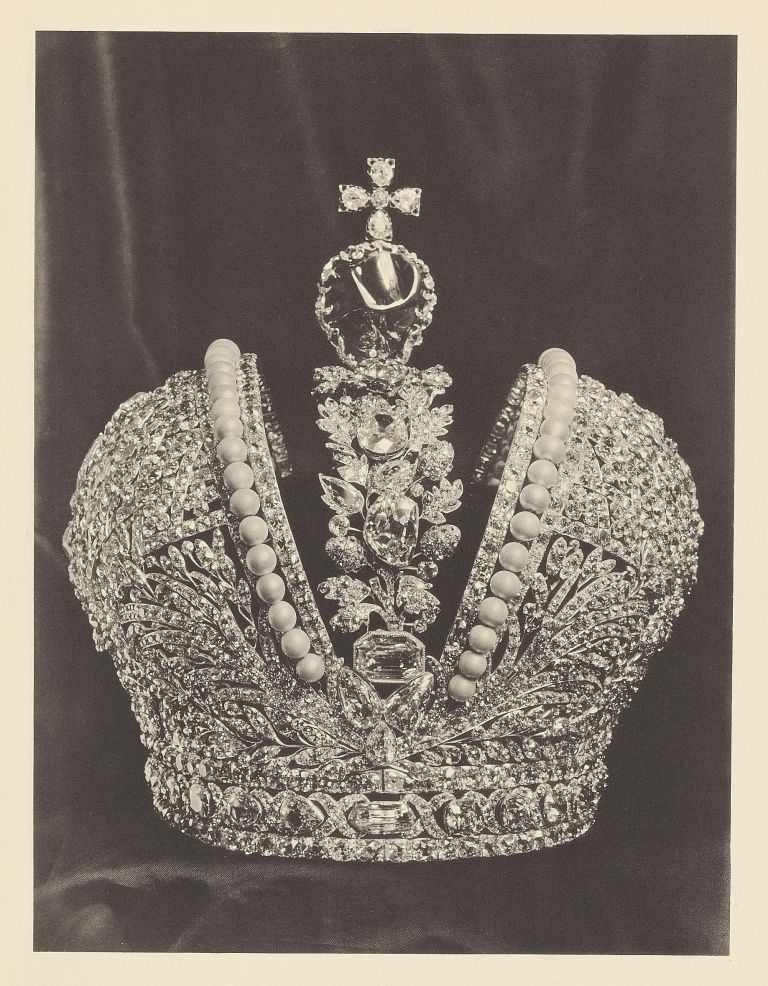 The opportunity to view the catalogue will follow on from a discussion between photographerRichard Daviesand V&A curator Dr Tessa Murdoch -Remarkable Russia -which will see the two swap tales of survival and preservation, taking into account wooden churches and historic English silver, preserved in the Moscow Kremlin through the English Civil War and the Russian Revolution.
Please join us in theNational Art Library at 19.30, for what looks set to be a remarkable evening.
For a full list of the night's events, please see the following link: http://www.vam.ac.uk/content/articles/f/friday-late/
Also new in, and available to buy in the bookshop:
Tsarskoe Selo Furniture. Tsarskosel'skaya Mebel' i ee koronovannye vladel'tsy.  St. Petersburg: Aurora, 2010. 256pp., illustrated in colour. Cloth, 31 x 25cms. This volume presents furniture from the Imperial residence, Tsarskoye Selo, dating from the 17th and 18th century. Pieces are both individually photographed and also presented in the context of their original lavish interior context.  Text in Russian.£ 100.00
Znamenov, Vadim V.: Private porcelain manufactures of the Russian Empire. 1756-1917. Moscow: Rinal-Inter, 2011. 568pp., numerous colour illustrations. Cloth, 29.5 x 21.5cms. Catalogue of more than 300 examples of porcelain drawn from Russian museums and private collections along with makers marks, details of each item and a discussion of the important collections.  Text in Russian.£ 195.00
Serpinskaya, Tatiana: Art Bronzes: Tsarskoe Selo Collection. Khudozhestvennaya Bronza: Tsarskosel'skoe Sobranie.  St. Petersburg: Aurora, 2009. 224pp., illustrated in colour throughout. Cloth, 31 x 25cms. Sumptuously illustrated, this volume presents a range of clocks, lamps, vases, chandeliers and bronzes, many of them French, from the 18th and 19th century.  Text in Russian.£ 98.00
Kostyuk, Olga G.: French Jewellery from the 18th and early 19th centuries. Catalogue of the collection.Yuvelirnoe iskusstvo Francii XVIII- pervoy treti XIX veka. Katalog kollekcii. St. Petersburg: The State Hermitage Publishers, 2010. 440pp., illustrated in colour. Cloth, 27.5 x 22.5cms. A beautiful and well illustrated selection of snuff boxes, needle cases, travel bags, purses and other items.  Text in Russian.£ 97.50
The Ice Frozen Forever. Rock Crystal in the Hermitage Collection. 2006. 200pp.,colour illustrations throughout. Wrappers, 28 x 24cms.  Objects made of rock crystal, smoky quartz and amethyst, were popular in antiquity and at the courts of European monarchs. Carved crystal was extolled by poets, and art collectors paid generously for this 'permanently frozen ice'. The unique Hermitage collection helps trace the history of the appearance and development of rock crystal carving.  Text in Russian.£ 48.00
Please contact us for  a full list of new Russian titles by emailing artbooks@heneage.com