New Catalogue Raisonné: William Scott
May 03, 2013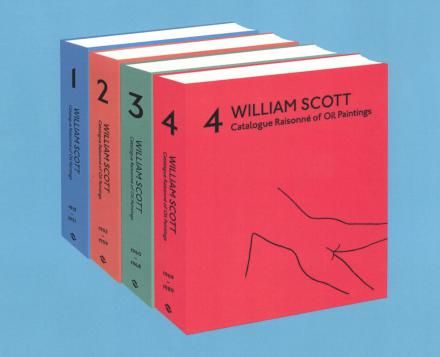 Published on the occasion of the artist's centenary, this four volume set covers the British artist's entire artistic output in oil from 1928-1986, cataloguing  over 1000 paintings. William Scott (1913-1989) was a hugely significant figure not only in the context of modern British art, but in America, through his connections with Willem de Kooning, Jackson Pollock, Franz Kline and Mark Rothko. This catalogue raisonné is the product of over six years of research, and includes documentary evidence drawn directly from the Scott family archive, in addition to lecture notes and unpublished letters, with detailed descriptions explaining the dates of each item. The four volumes trace Scott's development from his first still-life paintings executed at the age of 15, to his later turn towards abstraction, revealing the artist's interests in early Egyptian limestone reliefs, ancient Celtic imagery, paleolithic art, and celebrating his ultimate fascination with pure form.
Whitfield, Sarah:  William Scott: Catalogue Raisonné of Oil Paintings.  4 Volumes. London: 2013. 1272pp., with 1520 colour illustrations. Volume 1: 1913-1951, Volume 2: 1952-1959, Volume 3: 1960-1968, Volume 4: 1969-1989. Cloth in a slipcase, 30.2 x 27.6cms.
£ 595.00
Please contact the bookshop to place an order.